Nestled in the beautiful foothills of the San Gabriel Mountains, Rolling Rock Ranch Alpacas is a short drive North of Los Angeles. For years we had been following the alpaca industry and were enamored with the graceful suri alpaca. In 2012 we purchased our 6 acre property with the dream of building a small farm and ranch using as many sustainable practices as possible. Alpacas are our livestock of choice because of their low impact on the environment, gentle disposition and who can really resist those cute faces!
Our breeding efforts are primarily focused on grey and rose grey suri alpacas. In the near future out ranch store will be going live offering raw and processed fiber, yarn and fiber arts. Keep an eye on our blog and Facebook page for the latest updates.
We offer boarding services, lease options and alpacas for sale. We are to work with you to learn about these amazing animals and their care. Rob also offers spinning lessons and other fiber processing for those that want to really get into fiber arts.
Beautiful Grey Boys Available

May 8, 2022
Over the last few years we have had some really amazing grey and rose grey's out of our grey stud, RRRA's Immortal Caesar. (He is available for breedings and is proven to produce grey with different color females now) Keep an eye on our site if your interested in grey, we will have some really nice grey males available for sale soon after the ween this summer.

We have had a lot of boys recently, but it's has created the opportunity to get some really nice grey junior herd sires from a line that is proving to very consistently produce grey. Check out our available boys.
Announcing the Princess Pumpkin the Pocket Alpaca children's Book
We are extremely excited to announce the completion and Pre-Order of the Princess Pumpkin the Pocket Alpaca children's Book.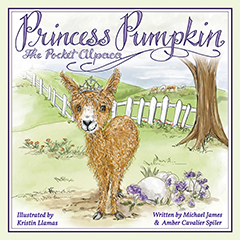 Read More about the Book
or visit
www.PumpkinThe Alpaca.com.
Read about our little Pumpkin, born on Thanksgiving day at only 5.5lbs

December 20, 2015
Pumpkin is one of the smallest crias to survive. She is a precious spirit that has enriched our lives. Be sure to follow our blog and Facebook page for more stories and lots of photo's of little Pumpkin.